St.Mark's School Meera Bagh extends a helping hand
Ms.S.Malik and Ms.M.Parashar, teachers of St.Mark's Sr.Sec.Public School, Meera Bagh, attended the 14 th anniversary celebration of Goonj, an NGO working for poor and destitute people all over India, at Sarita Vihar on 24.2.2013. The efforts of St.Mark's family in helping Goonj to convert urban waste into rural resource were appreciated. School regularly contributes in the form of old clothes, stationery items, bedsheets etc. which is channelized by the NGO in their initiatives like clothes for work wherein they pay rural people by using clothe as a parallel currency and initiate rural development projects like digging up wells, building a pucca road, beautifying an anganwadi using local people and local resources. It was a great experience as stories of real life heroes who are working for betterment of under privileged section of society were shared.
Littleton High School Students Support Elementary School Students

Jacqui. - Last Thursday at the Elementary, I helped two 2nd grade girls learn about simple weather patterns and research them on the computer. They listened carefully as I explained how to type their topic into google and open various sites. I'd like to think that I made an impact on them as I explained that powerful meant the same thing as strong (when discussing tornadoes), and as I helped them spell these words. By coming into the elementary school I was reminded of how little, and how impressionable, we all once were. Their excitement to see "real" high-schoolers in their classroom brightened my day, and hopefully, theirs as well.
Albert- Last week we visited a local elementary and worked with some of the 2nd graders. It was an amazing experience knowing how much it meant to the kids with their class work and showing them how to use the computer to find information on google to answer some question they had about weather. I happen to make some smart new little friends that I can't ever forget. Hopefully I can see them again soon!
Cory - Last Thursday, I helped three second grade children work on their weather research on a computer. I found facts about the type of weather they wanted to further explore and they read them to me then wrote them down. I like to think I impacted them in that I helped them spell and identify unfamiliar words or that I simply acted as a good role model.
Alfonso - The way I think I would be a hero for the younger kids in the elementary school is that I was older and smarter, had more experience and knowledge. In this way, I could help the students I worked with and they would respect me even more. The sense that they felt comfortable with me showing them new things like copying, pasting, (re)searching and the excitement made me know I did something good and hopefully they can keep using their new skills. The sense of respect that I got from the younger kids is more than i get from peers my own age and it makes them my hero as well. It was great working with them, and I'm not really a people person.
Haley - Last Thursday we went to an Elementary school. I helped kids with their math and also got to hear a little bit about their lives, interests and hobbies. It was really fun to talk to the little kids with big imaginations.
Brad - On the 28th I went with to an elementary school with my class. I helped first graders make PowerPoint presentations about the reptiles they were learning about. It was really fun and different. I felt that I was a hero to them because I was an older kid and they were nervous and excited to see all of us. I also felt I was hero because the first kid I helped was shy to have a boy partner, but she chose me and I let her talk about anything and her reptile and even printed out her PowerPoint for her, which she was so excited for, and the second kid was shy but I got him to talk a little bit and find cool pictures on his reptile. I helped them have a little fun and try something new and that is how I feel I was a hero for them.
Maddie - I helped two first grade girls, Cassandra and Esmeralda, do power points on their favorite animals. I think both of the girls liked the power points and liked talking about their favorite animals, altogether I think they learned more about power points and had fun working on them, I had fun working with them too.
Alexis - When we went to the Elementary, I had three small boy's in second grade. There project was to pick a weather that they would want to learn about, not seasons but different types of weather like snow storms or rain storm. Two boys from my group picked tornados and one picked a lighting storm. They were really excited when they were learning more facts and also printing the pictures.
Shae - In the past week I helped a fellow student by getting his truck off of an icy snow banked hill so that was my citizenship replacement of not being able to go help the elementary students with the rest of class on Thursday.
Eric - 6 or 7 of us went to work with some fun 3rd graders, and tried to help them out with their math skills. After the squares were colored, we had a nice little titanic drawing contest and this hilarious kid made me a paper hat. Clearly, it was a good day. But I learned that just being there to support kids with whatever they're doing, academically or artistically, is important. Having someone there to help and encourage you makes the thing you're trying actually worthwhile, and I could see it in those little 8 year old eyes.
Grace - When our class went to the elementary school I visited and helped out 2nd grade. We helped the class research weather. I was helping two girl 2nd graders research snow and rain. It was a great experience, and it would be really fun to do something like that again! :)
Cole - Last week I helped third graders with math problems and also to make historical time lines. It was fun to help out the kids and I think they enjoyed our help as well.
Rajashekar - I had a fantastic time helping Jeronte Alan Brown in 3rd grade math because through him I am reminded of how creative, care-free, and energetic young kids are. To be honest I was shy at first to help out because I don't spend the majority of my time around kids but after a while I learned how to effectively engage Jeronte in learning while making a young friend in the process.
Zack - I helped a couple 1st grade boys do math, even though it seemed like they were understanding the concepts easily. I helped one of the boys with better organization with how he does his multiplication, and I think he was starting to get it. It was cool to see how simple it was to teach these young seedlings.
Christian - I had the pleasure of working with 2 second graders; Savannah and Oscar. I talked to them about school and what they were learning. They told me they were learning about animals and insects, so I helped them make art on the computer with their favorite animals. Savannah actually started teaching me about some of the things she does on the computer. She was very artistic. Oscar loved to talk to me about his pets and what animals he liked. I helped him make a PowerPoint about reptiles and sharks. We printed it out and he loved showing all of his friends.
Loi - I helped third grade to do their math book, explained to them and having fun.
Robert - I helped two kids research storms in 2nd grade. I also helped their spelling and I know how important that can be.
Rose - Our class went to an elementary school near by and I worked with two kids, Jackyln and Abraham, and helped them research on the computer about drought. I think it was nice for Jackyln to get to show off some of her academic achievements, of which she has many, and for Abraham to have someone to help them through some spelling and reading, working with him one on one.
Shawn - I helped two second grade boys do some research on Tornadoes. Both of them were very interested in violent forms of weather, probably because second grade boys are all violent. (: We found some very cool pictures, and now the two boys have a better understanding of how the weather works. It was a great experience, and I would do it again, anytime!
St.Mark's School, Meera Bagh propagates Aman ki Asha
Ms.Anjali Aggarwal, Principal,St.Mark's Sr.Sec.Public School, Meera Bagh visited Khuda ki Basti school in Lahore, Pakistan.
The visit saw Ms.Aggarwal interacting with the students of the school and taking a tour of the school.Khuda ki Basti school in Lahore comes under the DIL (Development in Literacy) programme initiated by the Government of Pakistan.
Ms.Aggarwal was hosted by Ms.Sherin Khan, Chairperson of School Management Committee. The other dignitaries present during her visit were Ms.Shakila Asghar, Principal, Mr.Ali Ijaz, DIL and Ms.Bushra Ahmed, teacher, Khuda ki Basti,Lahore.
The students sang a song and also presented a beautiful poster hand made by them with the message of aman-peace between the two countries.
Coordinated beautifully by Ms.Alema Yousuf, iEARN, Pakistan, the visit by Ms.Anjali Aggarwal was, indeed, in hope of peace(AMAN KI ASHA)
Tetra Pak Ambassadors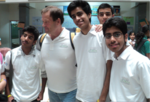 Myself Kartik Butani (10 B) and Sarthak Kathuria(11 C) were selected as the "Tetra Pak Ambassadors" through a competition where we gave our ideas on how to make tetra pak carton recycling fun and how to preserve Antarctica through a 2 minute video. We were amongst the privileged 29 students selected from different parts of India. We went to Pune and our trip started off with meeting the other ambassadors and discussing different ideas on how we can create a better environment with the efforts we put in. We visited the Trash Festival in a school in Pune where we attended different workshops, eco-stalls and much more. We got a chance to meet Sir Robert Swan, OBE, and the first person ever to have walked on both the poles. He told us about his expeditions to Antarctica and how, we the citizens of the Earth, are doing injustice to the Lovely Planet. We were then taken for the prize distribution ceremony where the best videos from the ambassadors were to be awarded by Sir Robert Swan. Sarthak Kathuria (11-C) was awarded the Special Jury Award. On the last day we visited the Takwe Tetra Pak plant where we were practically explained how Tetra Paks are made, including the pressing, printing etc. It was a nice learning experience for us as we learnt the basic needs for waste management.
Credits
Template by LHS, USA and Wall by SMS, INDIA
Text and Photographs by LHS & SMS
Software : Wallwisher / Padet